Hello Friends of GGF,
In the blink of an eye, the 2017 Able Finance Services Girls Gone Fishin Competition has been and gone. In some ways, it feels like it hasn't happened yet, but those post event feels are strong, which is a reminder that it, in fact, has.
Where do I start in even trying to recap the weekend that was GGF 2017? I guess the best place would be from the start, so here goes...
Thursday 18th May 2017 saw the arrival of 43 teams of female fisho's (a.k.a legends) to The Lodge of Dundee for the Great Northern Welcome night. The evening began with some ice cold Great Northern Super Crisp beers and some incredible platters of tasty morsels that were prepared by the incredibly talented team from The Lodge.
It was amazing to see how many teams had made the effort to get team shirts produced. What was even more amazing to see was the incredible amount of sponsors logos on each of their own shirts - these are businesses who have helped these teams get to the event, some of whom had sponsored us as well!
After a couple of cold ones, we launched into the formalities. The excitement in the marquee was electric, and as soon as the words "Welcome to the 2017 Able Finance Services Girls Gone Fishin competition" were said the crowd erupted into screams of delight and we knew from that moment on that it was going to be an incredible weekend. As with every year, we thanked our INCREDIBLE sponsors, and welcomed each team on to the stage to collect their Vanguard Homes goody bags full of GGF merch, sponsor goodies and a water bottle with a message close to my (Sammie's) heart - "It Ain't Weak to Speak" with thanks to Livin, which is an organisation that is raising awareness and trying to remove the stigma around mental health. After going through the rules, some of the teams headed off to get a good nights sleep ahead of day one, but, as always, there were a few teams with 'first night fever' who hung around and enjoyed the music and the drinks.
Day one comes and all teams were at the boat ramp at 5am for breakfast and a Pauls Iced Coffee, and were chomping at the bit to hit the water. The new boat ramp facility at Dundee Beach made an amazing difference to the launching of the boats this year, along with the amazing marshals we had helping us out this year. The lighting (or lack thereof) of the ramp is an issue, and something I am hoping is addressed sooner rather than later. Luckily we had the foresight, and had our own set of flood lights set up - which helped shed some light on the situation! All teams were on the water prior to lines in at 7am.
We headed out to check in on the teams and see what was happening on the river, most of the teams we came across had caught a fish (or five)! The vibe on the water was just as electric as that in the marquee the night prior, and our teams were all having a ball. We watched a few teams catching fish - the river seemed to be producing the goods - woohoo. We came across Wasted Talent, with Trish Wright on what appeared to be a snag... They had an interesting method of trying to get off the snag, and were doing some serious circle work on the river.... after asking them what the hell was going on, they advised us Trish was on a fish, and that it was wrapped around a snag. Another 10 or so minutes of this passed, and you could see Trish all but give up hope and sent her lure retriever down her braid - 5 or so minutes of working that passed, when all of a sudden 'ping' the tension on the line went and Trish started winding madly, only to realise that her line had snapped.... she wound that in, and started bringing in the lure retriever when all of a sudden she screams "I've got the fish"! The front treble of her Classic Lure was in the fish's mouth, and the back treble was hooked through the lure retriever.... If we hadn't seen it with our own eyes, we wouldn't have believed the story!!
We started making our way back down the river continuing to check in with all the teams on the way to make sure they were all having a good time, there would have only been about three teams out of those we spoke to who had yet to land a fish - pretty impressive for 10am on day 1!
We headed back to base to get ready for the evening's festivities, but not before catching up with team Anchor Management, who modestly told us that Kaylee Festing had just landed a 95cm beauty! Woohoooooo!!!
After lines out at 5pm, teams headed back to the boat ramp for retrieval, it was awesome to see so many confident chicks reversing trailers down the ramp, they all did an amazing job! For those who were still practicing, we had a great team of marshals on hand to assist in that area! I (Sammie) was amongst it at the boat ramp catching the tall tales from the day, while Hayley & Tara took the score sheets and photo's from our teams.
As the last few teams were being retrieved, Hayley approached me at the top of the ramp and asked me to come check on my scoring spreadsheet. I left the ramp and headed over to ask what the problem was.... the spreadsheet was recording 186 fish (with still more scoresheets to be handed in) and they (and I when they told me) were in a bit of shock!! I mean we had spoken to a lot of teams and they had caught fish, but we left the river before lunch time, so we had no idea about the quantities that were caught through the rest of the day! We got to cross referencing the paper sheets to the spreadsheet (all the while still adding the score cards as they were handed in) and at the end of the count the numbers matched perfectly....
244 Barramundi
SHUT THE FRONT DOOR! We were lost for words... how could it be possible, that in one day, our anglers had caught more fish than the first two years added together?!?!? Our weekends were made, all the hard work, all the time and effort and stressing about how the event would turn out paid off in that very moment for us! The rest of the weekend was truly going to be a bonus. The fishing gods had turned it on for our anglers, and we couldn't be more delighted.
Our teams headed off to freshen up for the evening, and rolled into the marquee in time for dinner to be served. Once again, the meals provided by The Lodge of Dundee were second to none.
After tea, it was time to get stuck into the formalities. We were so excited to announce the capture (and release) figure for the day! After a few guesses from the crowd, 80, 160, we announced the impressive figure of 244... the roof of the marquee just about lifted off the frame as the teams roared with excitement at how incredibly well they had done for the day!! There were looks of shock and delight around the marquee, the energy was amazing and from an organisers perspective, you truly could not ask for a better response!
Before the excitement settled down too much, we held our annual Barralympics competition... which is a HILARIOUS sight each year, and this year was no different. Barralympics is a series of events where participants are knocked out until we have a winner. Round 1 this year was Jimmy Fallon's Egg Russian Roulette - if you haven't seen it before, do yourself a favour and google it! The girls had no idea what they were in for and the look on their faces when we announced it was nothing short of priceless - we had 20 boiled eggs and the rest were raw... three, two, one smash on head, boiled eggs move through to next round. From there, the girls moved onto a team event where they had to land 5 ping pong balls into the container on the top of their team mates heads, which was followed by Blindfolded Musical Chairs.... oh looord was this event a treat for us viewers!! There were three winners of this, who moved onto stocking bowling, where they had to mow down 5 water bottles using the tennis ball in the end of a pair of stockings that was tied to their head.... All in all a spectacular show!
The scores for Day 1 were close, which meant it was still anyones game! Some teams headed home so they could get up bright and early, while the rest enjoyed the tunes being played by DJ Fletch and the beverages being served by the awesome team behind the bar.
After a good nights sleep, we headed to the ramp bright and early for day two. Lots of teams had arrived at the ramp and launched before 5 in an effort to get to their fishing spots to ensure they were there for lines in at 7am, others arrived right on 5 and from there, it was a steady stream of boats arriving and launching. Once again, our teams were spoilt with a great Brekkie and some refreshments courtesy of Pauls and Coca Cola.
We didn't get out on the water on day two, we had too much to do back at base to get the marquee ready and decorated for the nights festivities. We spent the day getting organised, did a little emergency recovery of a marshal boat, towing it back to the ramp from Stingray Head, and headed to the marquee at lunch time to get started on the decorating.... HOLY SHIT it takes a loooong time to blow up balloons and organise them as table decorations. 200 balloons for 40 table centres, 2 huuuuge balloons (that were supposed to be octopus but had other ideas and ended up in the roof of the marquee, streamers, nemo pool toys, hand made coral, jewels for the tables.... it looked great, but my god were we buggered! At 5pm, when the first lot of boats came back in, we were madly grabbing all the prizes out of the trailer while still tidying up our decorating mess and trying to organise all the prizes into their categories. As always, we pulled it off, and when we stood back to look at the marquee it looked AMAZING!! We were so excited.
It didn't take long for the whispers of a big fish being caught to get back to us in the marquee! Knowing how fishing stories go, in fact we had one on the pre fish day - one of the teams had caught a 92cm Barra in the Little Finnis, and Sammie had been in The Finnis River and had caught a 78cm Barra, however, by the time the welcome night had come around, Sammie had caught a 92cm Fish in The Little Finnis!! Anyway, back to the story, and knowing how fishing stories go, we waited to see the score cards come in before we confirmed the capture of this big fish, and when we saw it, boy oh boy were we STOKED!!
104cm of beautiful Barramundi!!
Woohoo! Kristy Kelly of team Reel Exposure had landed a beautiful 104cm horse in The Little Finnis. What made this capture even more exciting was the fact that this was the ONLY fish that Reel Exposure caught for the weekend - what a bloody good effort!! Score cards kept coming in, Day Two looked like another incredibly successful day on the water! One team had caught 18 Barra for the day.... HOLY MOLY! At the end of the count, we had 186 fish recorded as Day Two's capture.... WOW.
The teams headed off for showers and to get dressed up in their costumes for the evenings festivities - the theme for 2017 was Under The Sea. We weren't disappointed when teams started rolling in!! There were Jelly Fish Galore, but not just ordinary Jelly Fish, there were LED lights, streamers, umbrella's! It was the most incredible sight, especially when they all started a Jelly Fish Conga Line and danced around the whole event space, they then took it to the dance floor and moved in such a way that it looked like there was a sea of real life Jelly Fish on the dance floor! These weren't the only great costumes though, there were crab pots, Nemo, Dory & Crew, Bearded Clams (haha), Turtles, King Neptune, Crabs!! The choice of a winning costume was super hard, but the winners were the girls from Reel Rebels, Megan, Jen & Kelly who had an original, and fantastic costume!
After another delicious meal, it was time to announce the winners!!
Best Dressed Team
Winning Gift Baskets kindly made with love by Lenna Lehmann
Reel Rebels - Best Dressed Team
Reel Screamers – 2nd
Chix with Stix – 3rd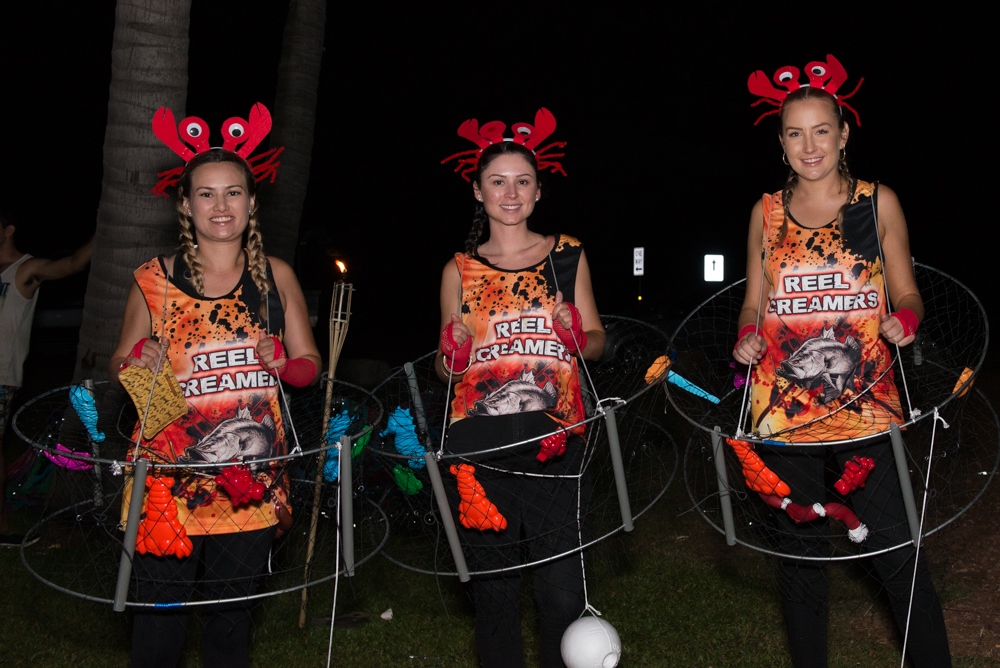 Random Catch
Taking home a Crocosaurus Cove Double Cage Dive voucher each, with thanks to Crocosaurus Cove
110cm Jewie – Kate McCullough, Team Bynoe Blush
95cm Queenie – Kelly Brand, Team Sheila Reelers
Masterbait Gossip Girl
Masterbait Prize Pack, with thanks to MasterBait
LouAnne Duncan, Barra Slayers – Fully pumped for the 81!!!
Galvins Plumbing Smallest Barra
Winning an Outback Floatplane Adventure The Ultimate Tour Voucher
26cm – Delissa Bell, Team Birdsnest
BigFish Gear Biggest Barra
Winning a Shimano Rod & Reel, 65L Girls Gone Fishin Esky (Evakool), Trophy
104cm – Kristy Kelly, Team Reel Exposure
Sign City Runner Up Champion Angler
Winning a Shimano Curado Reel – 200i, G-Loomis EX-6 Rod, Precision Marine $500 service voucher
790 points - Tracy Saliba, Team Cupla Qwyties and a Chill
Outback Floatplane Adventures Champion Angler
HeliFish for 3 x people, Trophy
965 points - Emily Melville, Team Size Matters
Wigg Plumbing Runner Up Champion Team
With thanks to Wigg Plumbing & Great Northern - Winners got Shimano Spin Reel, Shimano Barra Raider Rod, Great Northern Eskies, Shirts, Lures, Calendars and Trophies!
1535 points, Team Size Matters, Emily Melville & Melita McKinnon, Skippered by Darryl Melville
Evakool Champion Team
Shimano Exsence Reel, G-Loomis EX-6 Rod, 85L Evakool Esky, Bigfish Canvas Print, Territory Guided Fishing Voucher, Ella Bache Facial Vouchers,
1675 points - Team Wasted Talent, Lenna Lehman, Trudy Hallas, Trish Wright, Skippered by Leigh Wright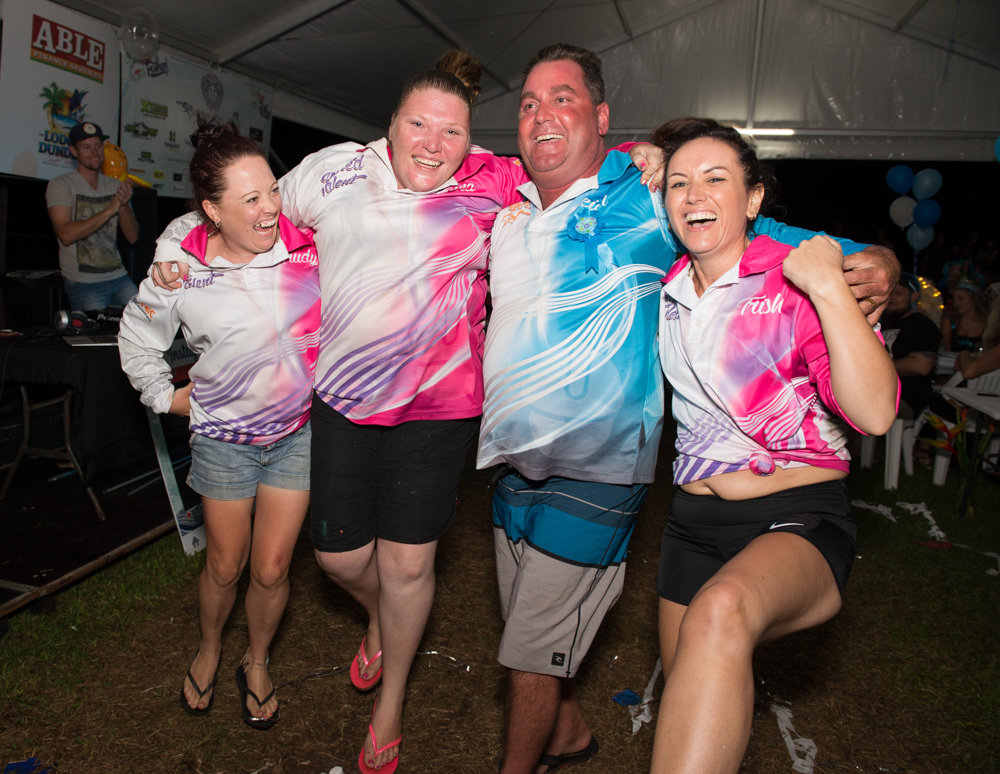 After the winners were announced, it was time to party! And that we did with thanks to DJ Fletch on the decks! The atmosphere was INCREDIBLE. At 12:30am there were still over 100 people at the event dancing the night away, thank you to Fletcher who hung around and did three or four more "ONE MORE SONG, ONE MORE SONG, ONE MORE SONG'S" and for the music throughout the presentation of the prizes - you really helped set the mood and build the suspense!!
What an incredible weekend! 420 Barramundi caught and released over two days by 143 women!!! Every single team recorded a point scoring fish - something that has not happened in a competition that we have ever been part of before!!! What a bunch of absolute legends. The girls fished hard, the fish were biting. The river looked amazing, clear and full of life! Lots of small fish were caught, which excites us beyond belief for the next few years of fishing in that area.
A HUGE thank you to our amazing sponsors, without your support, Girls Gone Fishin would not happen! We trust that you feel well represented at the event, and look forward to continuing our partnership for years to come. Make sure you check out our sponsors for 2017!
To everyone who put time in to the event, thank you! The commitee, you are awesome, Andrew Case and the team at The Lodge of Dundee, you are awesome and did an incredible job, Hayley (who was out there with her 5 month old son) and Tara - the weekend just would not run without you two - you do all the menial but important tasks while I run around like a headless chook, my partner Tim, my family for your support. You all friggen rock!
And last, but not least, thank you and well done to our competitors and skippers. Whilst we bust a gut organising an incredible weekend, you are the people who turn up with good attitudes, good vibes and have good fun! Without you, there is no Girls Gone Fishin.
If you aren't already doing so, follow us on FB and check out the photo's and keep up to date on the latest happenings of GGF!
Girls Gone Fishin is fucking awesome! Woo
Sammie x